Hardcore
Irons
Electric Tattoo Machines
Made In Switzerland 
At Hardcore Irons we build unique, Handcrafted Custom Tattoo Machines.
Hardcore Irons Tattoo Machine Company

is the joint, collaborative effort of two professional tattoo artists living in Switzerland, Dave Holm & Mario Rottweiler.

Passionate about

Hardcore Music & Tattoo Machines

, Dave & Mario created the

Hardcore Irons Tattoo Machine Company

. Repurposing high quality metals from various vintage and antique objects, each of our creations are unique and

One Of A Kind, Handmade Tattoo Machines

for professional Tattooing.

Dave Holm has over 40 years of tattooing experience and he was taught by the legendary Mickey Sharpz the fine art of Tattoo Machine Construction.
Originally from New York City, Dave also owns the Tattoo Museum in Basel, Switzerland and an extensive collection of Antique & Vintage Tattoo Machines.
Dave is a man of many trades besides tattooing and throughout his career whilst touring with bands like
Agnostic Front, GBH
and many more he was known as
Navy Dave Da Skin, Dave All Trades
.
Mario Rottweiler has been tattooing close to 10 years now and apprenticed under Dave Holm as a tattoo artist. Besides being a fantastic tattoo artist today, Mario has over 15 years of professional experience as a Toolmaker. No detail to accuracy goes left unnoticed by Mario and his inventive machining skills allows Hardcore Irons to produce high quality coil tattoo machines.
Bei
Hardcore Irons

bauen wir einzigartige, handgefertigte kundenspezifische Tattoo-Maschinen.

Hardcore Irons ist die gemeinsame, kollaborative Anstrengung von zwei professionellen Tätowierern, die in der Schweiz leben, Dave Holm & Mario Rottweiler.
Mit Leidenschaft für Hardcore-Musik und Tattoo-Maschinen gründeten Dave und Mario die Hardcore Irons Tattoo Machine Company. Durch die Wiederverwendung hochwertiger Metalle aus verschiedenen Vintage- und Antiquitätenobjekten ist jede unserer Kreationen einzigartig und einzigartig, handgefertigte Tätowiermaschinen für professionelles Tätowieren.

Dave Holm hat über 40 Jahre Tätowiererfahrung, er wurde von dem legendären Mickey Sharpz in der hohen Kunst des Tätowiermaschinenbaus unterrichtet.
Ursprünglich aus New York City, besitzt Dave auch das Tattoo Museum in Basel, Schweiz, und eine umfangreiche Sammlung von antiken und Vintage-Tattoo-Maschinen.
Dave ist ein Mann mit vielen Berufen neben dem Tätowieren und während seiner gesamten Karriere, während er mit Bands wie Agnostic Front, GBH und vielen anderen tourte, war er als Navy Dave Da Skin, Dave All Trades, bekannt.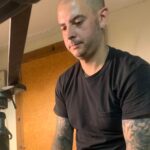 Mario Rottweiler tätowiert seit fast 10 Jahren und hat bei Dave Holm eine Lehre als Tätowierer gemacht. Abgesehen davon, dass er heute ein fantastischer Tätowierer ist, hat Mario über 15 Jahre Berufserfahrung als Werkzeugmacher. Kein Detail der Genauigkeit bleibt von Mario unbemerkt und seine erfinderischen Bearbeitungsfähigkeiten ermöglichen es Hardcore Irons, hochwertige Spulen-Tattoo-Maschinen herzustellen.